Customised container transformer station
Special performance requirements and conditions on site
A large plastics manufacturer asked for a container transformer station incl. a power supply to expand the connected load. Medium voltage switchgear (MSP plant), low voltage main distribution (LVM) and transformers with special requirements with us.
The total power of 4,000kVA was to be drawn from the internal supply network.
The particular challenge in the performance was the size of the station. For this could not be longer than 10m. Available standard 20-feet containers, 6.058m long, were too small to accommodate the required equipment and transformers. A 40-feet container with a length of 12.192m would have been too large for the conditions on site.
Due to the high performance requirements and conditions on site, we produced a container in special design together with our partner:
In order to be able to respond flexibly to our customer's requirements, we planned the container to exact dimensions together with one of our container suppliers.
Two transformers of 2,000kVA each were installed in the special container, which was exactly 10m long. The switchgear room with medium-voltage switchgear system, low-voltage switchgear, accessories and components for connection to an existing fire alarm system was created between the transformer rooms.
High-quality components from well known manufacturers for a safe power supply
We installed a Siemens 8DJH RRTT medium-voltage switchgear including our HS TSR-Duct pressure discharge system to increase safety for personnel and equipment in the event of an arc fault. The discharge of the toxic gases, pressures and fire occurring in the arc fault are safely conducted out of the container. To save height, the duct was recessed in the raised floor.
We installed two 2,000kVA cast resin transformers from TMC Transformers in the container transformer station.
Low-voltage switchgear installed by us comes from our partner company Kautz Starkstrom-Anlagen GmbH in Trier.
The system used is constructed as follows:
two feeder circuit breakers, each 3,200A, through which the transformers feed the low-voltage switchgear
two outgoing circuit breakers of 2,500A each and three outgoing circuit breakers of 800A each, which will later supply the new production hall with electric energy.
The metal-enclosed plant is equipped with bulkheads between the individual switchgear panels so that electrical faults cannot spread across other panels. Thus, in the event of an error, the effect is limited as far as possible to the affected field.
Open low-voltage distribution boards do not provide this extra protection and are very susceptible to foreign particles that can cause an arc fault.
In addition, metal-enclosed systems offer significantly higher personal protection in the event of an arc fault.
To increase safety in the event of a fire, we installed components that could be connected to an existing customer-owned fire alarm system. The system within the station consists of four OT² multisensor detectors and one manual call point electronics module.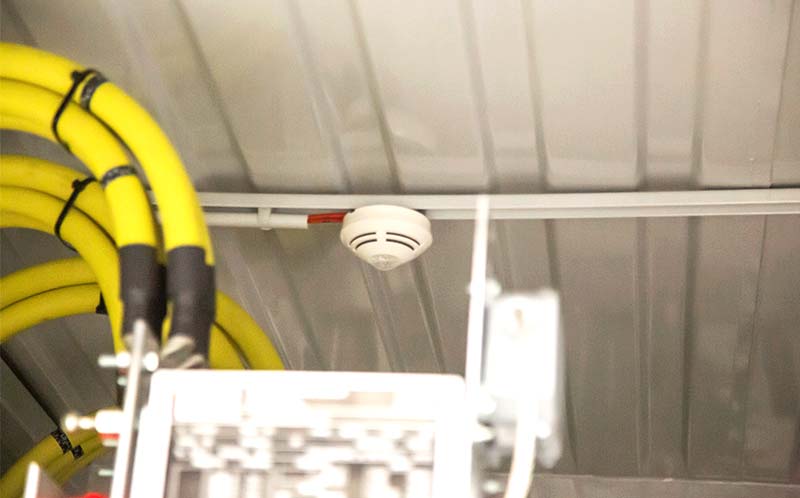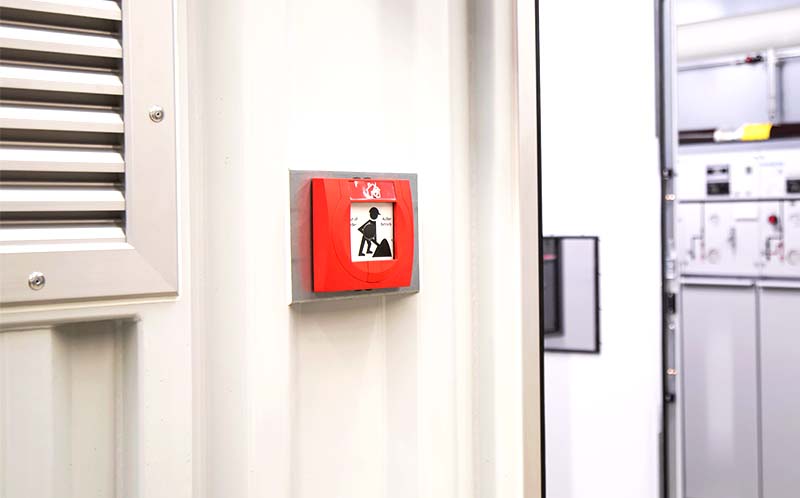 A STULZ TXD 60F cabinet air conditioning unit for indoor installation with integrated air-cooled condenser unit was used to cool the station. This is a direct expansion air conditioning unit with a total cooling capacity of 5.3 kW.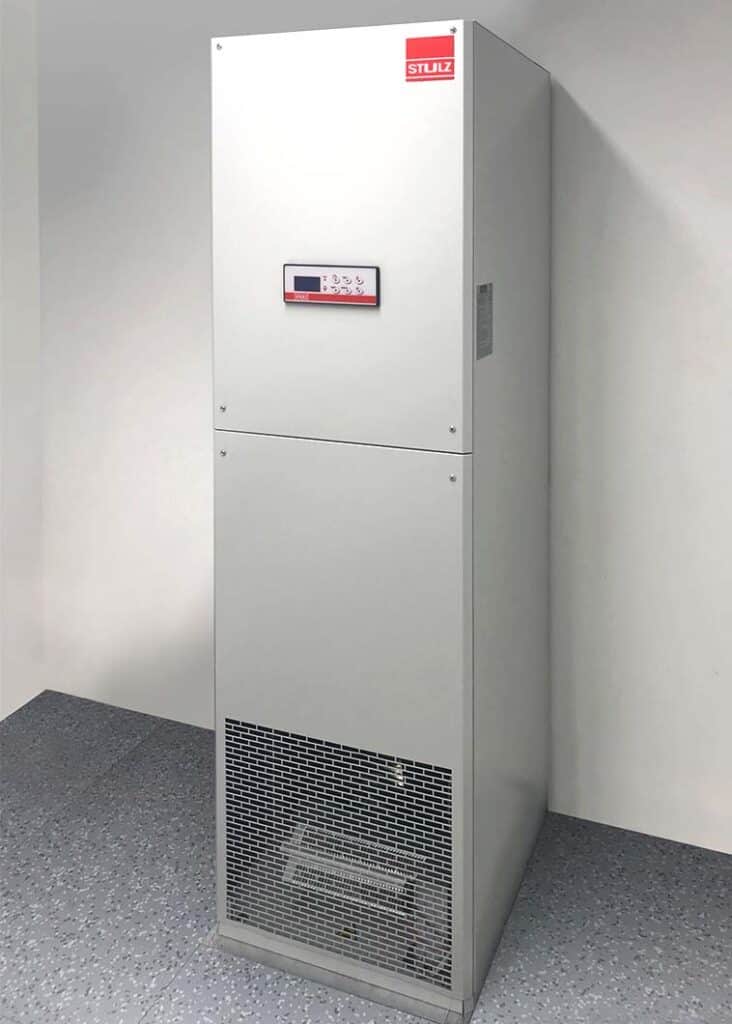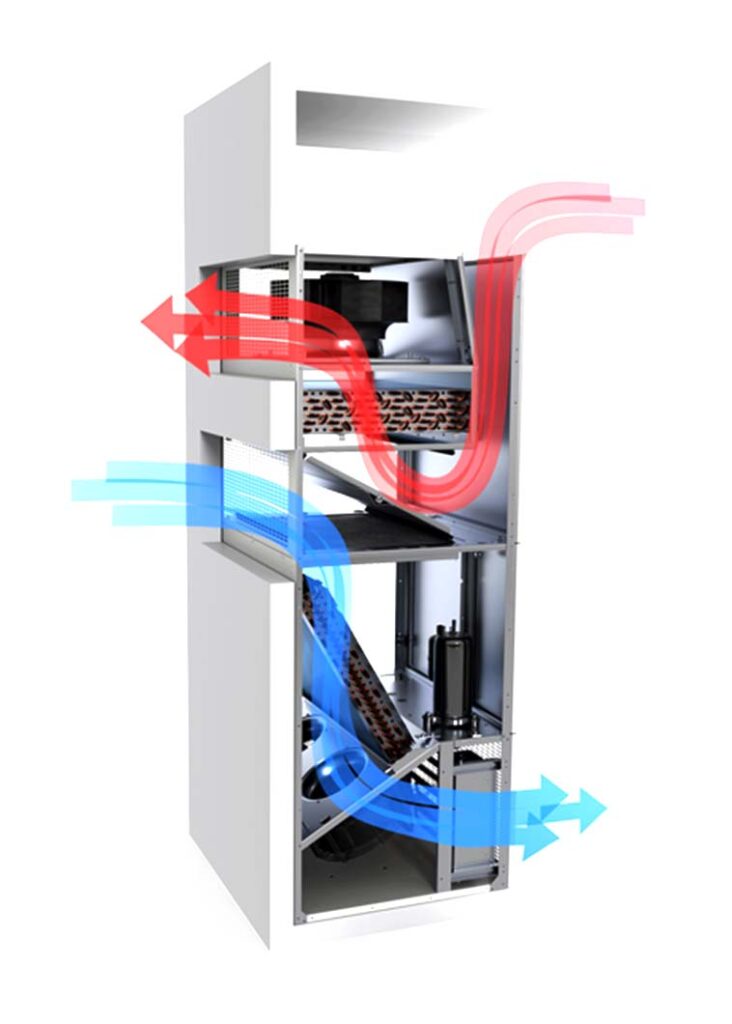 For special protection against dust, additional metal filters were installed in addition to the existing ventilation grilles. These were mounted in such a way that they can be dismantled and cleaned from the outside during operation. Thus, the operation is not disturbed and the station is additionally protected from dust from the outside.
Final assembly and commissioning
After delivery and installation of the transformer station by means of a 240to automobile crane, we carried out the final assembly on site:
For this purpose, the metal filters and stairs dismantled for transport were mounted. Furthermore, the station was connected to the upstream internal medium-voltage network. For this purpose, two already laid cable systems made of NA2XS(F) 3*150/25mm² were sleeved, routed into the station and connected to the feeder cable fields. After successful VLF cable testing according to DIN VDE 0276-620, the station was then put into operation.
Over 70 years of experience in the power supply sector and the fact of always being up to date ensures excellent know-how. Specialised in medium-voltage, we ensure that diverse requirements of our customers are met quickly and reliably. This ensures your individual, safe and efficient special solution.
Your team from Horstmann & Schwarz