modern transformer station for Zismann Gmbh
Once founded by the Zismann brothers, Zismann Druckguss GmbH has been located in Heiligenhaus for over 60 years. Particularly demanding die castings made of zinc or aluminum are developed and manufactured here for all branches of industry.
Location factors are particularly important – especially for metal processing companies – in global competition. This is because the high price of electricity in Germany plays a major role for the energy-intensive industry.
All the more pleasing is the result from the cooperation between managing director Ralf Herre and our project manager Mr. Müller. Investments have already been made in energy-saving technology in the form of LED lamps. A new, energy-efficient transformer station from Horstmann & Schwarz was still missing. Ralf Herre is clearly committed to the Heiligenhaus site (WAZ, 09.03.21). Thus, the cooperation with Horstmann & Schwarz was fixed.
Savings potential of the new transformer station
The 50-year-old 630 kVA Schorch transformer and the 31-year-old French 500 kVA transformer were replaced by a modern 630 kVA Horstmann & Schwarz concrete compact transformer station. Due to the new lighting system already mentioned and other energy-saving measures, the requested connection capacity could be reduced. In addition, the no-load and short-circuit losses are reduced in accordance with the current Eco-Design Directive EU Regulation No. 548/2014. This not only eliminated the need for a transformer, but also significantly increased overall efficiency. The additional power requirement due to the new machining center is thus ensured.
The transformer station was installed by us in accordance with the technical connection conditions (TAB). erected and delivered ready for connection to the medium-voltage grid. The connection was made by the power grid operator, Stadtwerke Heiligenhaus.
Another advantage of the new transformer station for the production of Zismann Druckguss GmbH is the secure power supply from the network of Stadtwerke Heiligenhaus. The old switchgear was clearly getting on in years and no longer complied with the applicable technical standards and guidelines. In the event of damage, repair would have been difficult due to spare parts no longer being available, which could have led to a failure of the power supply and a loss of production.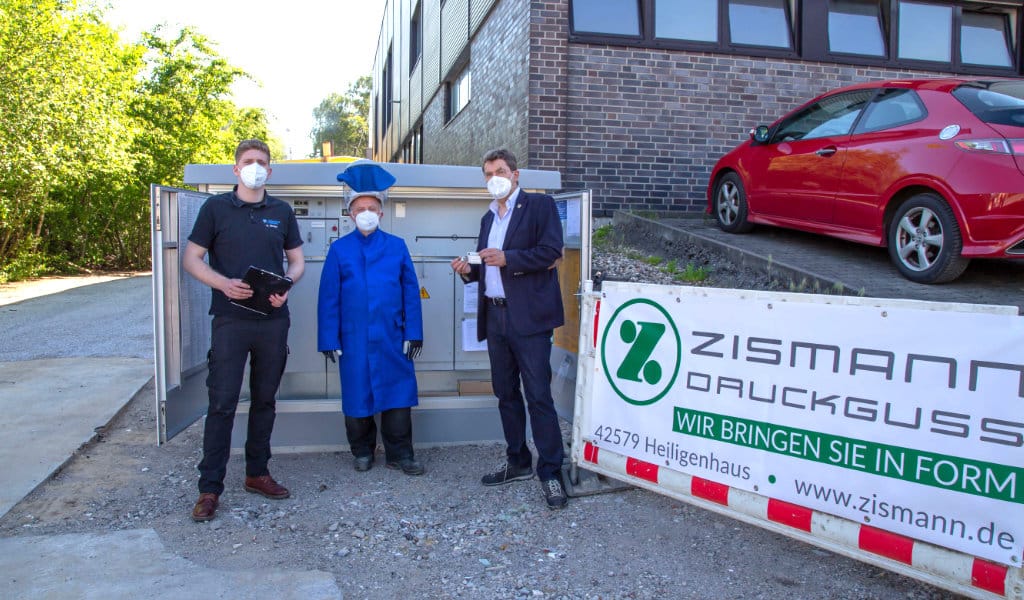 Then on 5/14/21 the old station was replaced and the new 630kVA, 10kV, concrete compact station with rugged oil transformer was put into service. We would like to thank you for the flawless cooperation and are proud to be able to positively influence the location conditions of our hometown.
Would you like to know how much savings potential is possible for your company with a modernized or new transformer station? We will be happy to advise you.